RE/MAX History
Company history
RE/MAX, the most successful real estate agency network in the world, was founded by the current president of RE/MAX International, Dave Liniger, in 1973 in Denver (Colorado, USA). Back then, the majority of real estate agents were retaining only a minor share of their earnings and the owners of real estate agencies were directly supervising their work. This substantially limited their entrepreneurial freedom. The agents were disillusioned and uninspired. Most of them left their jobs within two years.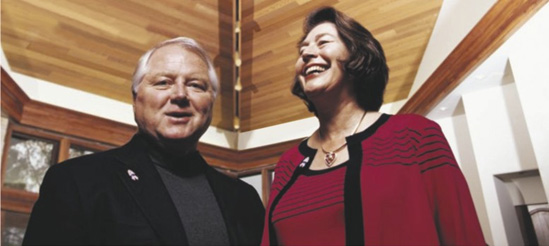 Liniger, originally a real estate agent himself, felt that there had to be a better way and decided to realize his dreams about a more just real estate system. He designed a revolutionary and innovative business model. He placed people at the very front and so enabled success both for agents and owners. He called his RE/MAX concept "Real Estate Maximums". Liniger and his wife Gail, who was also working in the property sector, firmly believed in the success of this new concept and managed to start a revolution with their system. Nowadays RE/MAX has over 120,000 agents working in more than seven offices all over the world and is still growing.
Constant growth
| | |
| --- | --- |
| 1973 | Company founded |
| 1976 | RE/MAX has over 100 agents |
| 1977 | 480 agents – RE/MAX becomes the biggest real estate company in Denver and expands to Canada |
| 1978 | 100 offices with 1,000 agents – the RE/MAX hot-air balloon becomes the corporate logo |
| 1980 | 3,000 agents – recruited within seven years since set-up |
| 1984 | The network grows to 5,000 agents |
| 1986 | Opening of the 1000th real estate office, RE/MAX has over 10,000 agents |
| 1987 | RE/MAX becomes the leading player in the USA |
| 1988 | RE/MAX becomes the leader also in Canada and has 20,000 agents in North America |
| 1991 | Expansion to the Caribbean region, where RE/MAX is the largest real estate agency |
| 1992 | Expansion to Mexico |
| 1994 | Launch of a RE/MAX satellite TV station for the North American network |
| 1995 | Expansion to South Africa, Europe and Israel |
| 1996 | RE/MAX wins the "Franchise Relations Award" of the American journal Income Opportunities, awarded to the best franchise businesses for excellent support, training and communication service provided to franchise license holders. |
| 2004 | RE/MAX has 100,000 agents, out of which almost 6,000 agents in more than 1,000 offices are in Europe |
| 2005 | Fast growth in post-communist countries of Central and Eastern Europe, RE/MAX enters the Czech Republic, Bulgaria, Latvia, Lithuania, Estonia and other former east-European countries. The number of offices rises to 6,000 and over 114,000 agents are working for RE/MAX. |
| 2006 | RE/MAX enters Slovakia. |
| 2007 | RE/MAX enters China. |
The most productive agents
The fundamental concept developed by founder Dave Liniger enabled RE/MAX to become the most productive real estate organization in the world. Over the long run, statistics show that the average RE/MAX agent has more experience and can sell more properties than other agents in the industry. Dave Liniger, who himself belonged to the best real estate agents, came up with the concept of distributing the operating costs of the office among all agents on an equal basis. He gave the most productive agents the chance to receive significantly higher earnings and created a competitive edge for his offices thanks to sharing of cost synergies.
Real estate agency owners traditionally asked (and are still asking) their employees to hand in a larger share of their fees to cover the operating expenses of the office. This conventional system was fit for beginners, part-time and relatively unproductive agents. Competent and successful agents quickly saw the opportunity and benefits of this new system and quickly joined RE/MAX soon afterwards.
A higher share in earnings for agents, the unique education system, the benefit of collaboration among RE/MAX agencies all over the world and the use of synergies in marketing and costs enabled RE/MAX to recruit and retain – also in the long term – the best professionals available.
Success brings success
The new concept also revealed another interesting trend. As genuine professionals started sharing one office, their skills continued to improve. We know this from sports, for example: your performance improves when you train with better athletes.
The RE/MAX system had a huge impact on the entire industry and has been imitated ever since. None of the imitators, however, have been able to achieve such huge success and professional standing as RE/MAX and its agents have. The reason for this is that introducing a different funding and remuneration method is not enough for success.
The amazing success of RE/MAX, supported by 383 months of constant growth (RE/MAX has been growing ever since its set-up), lies in a unique set of factors, such as motivation, mutual support and collaboration, professional practices and the use and perfecting of the latest sales instruments on a continual basis. RE/MAX spends approx. USD 1 billion on promotion and surveys of client needs. These are some of the reasons why RE/MAX has been sought after by the best real estate agents all over the world as the right place for a career.
Hot-air balloons
RE/MAX hot-air balloons are one of the most well-known logos in North America. Even though the balloons are owned and operated independently, the "corporate fleet" consists of 100 balloons and belongs among the largest all over the world.
The history of the RE/MAX logo – the hot-air balloon – started in 1978, when one of the regional directors tried a marketing experiment and placed a banner with the word RE/MAX on a hot-air balloon. The crew was wearing T-shirts that read "Above the Crowd!" – a slogan created by RE/MAX agents. Later on, in the RE/MAX head office in Colorado, the agents agreed that they would also use a hot-air balloon flying freely "above the crowd" for their TV spot, as this embodies independence, free spirit and professional practices of the RE/MAX organization. This spot proved to be extremely successful, so the hot-air balloon found its place as the RE/MAX logo.
Charity
Even though each RE/MAX office and each region may be engaged in other non-profit projects or charity, the official charitable activity of the RE/MAX organization is support of children's hospitals belonging to the Children's Miracle Network (CMN). RE/MAX agents have already provided millions of US dollars in funding to CMN hospitals all over the world.
---